Meet Paradox Sports Ambassador, Jess!
Tell us about yourself:
I'm Jess.  I've been involved with Paradox since 2015.  I have a right leg amputation, I typically describe it as a Barbie with its leg popped off.  I currently work for the climbing gym Movement as a Membership specialist.  I have a dog named Bull and a cat named Chicken and next week I'm getting a new little kitty whose name is going to be Goose.  This is mostly relevant because my last name is Schmidt, so we have Bull Schmidt, Chicken Schmidt, and Goose Schmidt.  I recently got married and my maiden name was Sporte, so now I say "I used to Sporte climb and now I climb like Schmidt!"  We definitely like the puns in our family.  
Can you tell us about your climbing background?
Yeah, so I was actually working with Adaptive Adventures for quite a while.  I started with them back in Michigan and my first introduction was way back in 2009.  When I came out here to Colorado, I was helping with a program one night and someone was like "don't forget about the climbing group."  So I went and met Paradox and immediately fell in love.  Mo was there and people were super welcoming.  I learned how to belay within the first couple of sessions and that's how I got into Paradox.  
Mo of cour
se convinced a bunch of us to compete, so I was on the US Team from 2016-2019.  I went to three World Championships during that time and since then I've been on the IFSC Paraclimbing Committee and I'm currently on the USA Paraclimbing committee.  I wasn't at the very first USA Paraclimbing event, but I was at the second.  So I've seen it grow from when it was at around 30 competitors to what it is now which is about 100.  It's been pretty amazing.   
What does climbing mean to you?
What drew me to climbing in the first place was that climbing had no adaptations.  I could just walk into a climbing gym and rent the same equipment as everyone else and climb.  Every other sport that I've participated in needed adaptive wheelchairs, or adaptive monoskis, or something adaptive to be able to actually participate.  The only other without adaptive gear that I can think of would be swimming but I never competed in swimming.  So this was the first sport where I was signed up for the event and said "What do I need to bring?  Is equipment provided?" and the response was "You can just stop and rent from the gym front desk."  So that was pretty amazing.  
I do enjoy solitary sports and the whole 'me vs the wall thing'.  It's a very personal challenge and I like that aspect of it.  Now, I would say I primarily climb just for fun.  I hadn't done a lot of outdoor activities- I had never really done hiking a lot or anything like that.  I grew up in Michigan where our outdoor activities were things like fishing and hunting.  With a disability, I just never really got outside that much so it's awesome to go outside and to now really enjoy climbing for the aspect of getting out in nature and enjoying the views and everything.
I feel like with disabilities we're often told you can't or you have to do it a certain way and with climbing it's all about what abilities you have in order to use those abilities to get up the wall.  I felt welcomed in the climbing community pretty quickly even with the able bodied community because everybody kind of understood that climbing is a really personal thing and everybody is struggling with whatever might be their weakness; whether it be slopers or crimps or pinches or overhangs or whatever- everybody knows that they have a weakness and it was very easy for able bodied folks to empathize and understand we (as in people with disabilities) want to climb in the same sense of how able bodied people want to climb and having that personal challenge of figuring out your own beta on the wall.  I think that's been a really fun aspect of it.  Whereas in a sport like tennis, everybody has the same stroke and you can recognize when someone has a poor stroke.  In climbing, you can watch 5 different people climb the exact same route and they all do it differently and they can all be successful.  You can't necessarily say that one person climbed it better than any of the others and that aspect is really appealing to climbing.  
It's cool at the wall when sometimes kids will ask how I climb with one leg and I can respond with something like "Hey, you know how you're short right now and can't reach everything and have to figure out a new way to reach it?  That's what I have to do too."  A lot of kids get that right away and understand that concept of climbing differently and using different beta than someone else.  
You recently got back from the Adaptive Climbers Festival, tell us more.
It was a crazy, nonstop fun time!  I was part of the 1st Adaptive Climbing Festival which had about 35 people in total- this includes staff, volunteers, significant others, supporters, and adaptive athletes.  It also included several children of people who were attending.  This year there were about 150, so it massively blew up!  It was a massive gathering of folks with disabilities and folks who supported folks with disabilities.  There were people who had never climbed outside before all the way to professionals like Mo.  The amount of beta that was shared between folks and the amount of encouragement and camaraderie was awesome.  One guy came from Puerto Rico and a handful of Canadians were there as well.  I'm pretty sure that in the future there will be even more international folks that will come.  It's a little surreal sometimes how big it grew and the whole event is just amazing. 
This year, they were able to find enough sponsors to provide almost the entire cost other than getting there.  $25 included all of the meals, camping, and clinics and all of the expertise that they had gathered to host the clinics and put up routes for us.  They had Wolfe County Search and Rescue, who helped provide transportation- pretty much car to crag service for folks who had mobility issues.  So for me, I was able to get a ride to the crag rather than hike and expend all of my energy on the hike getting to the crag, so that was really amazing.  They had a whole crew of rope guns who put up the routes for us so that we could just climb when we got there.  
There were some awesome sponsors- the Access Fund was there and there were a lot of people who had a lot of experience.  Some folks hadn't even heard about adaptive climbing before but when they heard about this event they flew out and donated their own time to be volunteers at the event.  It was really awesome and amazing hearing the stories about how people found ACF.  We had a Deaf interpreter who found it through a social media post and expenses were covered to get them out there but other than that, they volunteered their time.  
They had open climb sessions for those who didn't know how or have the gear to put up their own routes or lead, where people who were just interested in top roping could go to climb.  On top of that, there were clinics like Learn to Lead, Intro to Outdoor Climbing.  There was a photography class teaching how to do photography with climbing and there was a Mindfulness class.  I took an Intro to Trad course which was pretty rad.  Josh Ourada led the class; he's a climber that had fallen during a climb and is now a paraclimber.  While I definitely can't say that I know how to trad climb now, I do feel like I can better recognize good placements and bad placements which makes me more confident on doing trad routes with others.  I do love trad routes but it's kind of nerve wracking to be climbing on trad routes with someone else's placed gear, so I was excited to be able to learn what overcamming and undercamming looks like.  It feels like it was a much more fine line than what I had anticipated.  We also got some hands-on practice placing gear and getting insight about if our placements were good or not.  
How did it feel to be able to climb with so many adaptive climbers in one place?
It's pretty awesome to be able to see other people climbing like you.  To not be the only person who is climbing differently than anyone else.  There were people there who were experiencing their first time climbing with other adaptive climbers.  It's one thing to watch people climb and get the beta but when you watch someone who climbs like you, it's so much easier to get the beta and work out different moves.  Adaptive climbers have a lot of unique moves and I feel like adaptive climbers have to learn technique so much quicker than able bodied climbers so a lot of that technique is stuff that you might not see people use until they are climbing 5.10+ but for someone who is just starting out, they might not necessarily be watching someone who is climbing those hard grades because they are climbing 5.8. You might also see an adaptive climber mantling on a 5.7 or 5.8 and that's not a move that you would normally see on those grades.  So seeing and being shown those moves earlier on in your climbing life is super helpful.  
Learning how to climb efficiently is huge for adaptive climbers because we have to expend so much more energy on moves and being shown how to hang on the skeleton vs locking off.  Most beginner climbers can get away with that for a lot longer than someone who has a disability.  Learning those skills on intro grades is more important.  So being shown those skills early on is key, seeing other folks doing this on easy grades and watching someone who climbs similar to you gives you a lot better ideas about new moves to try.  
There is also the ability to check out the type of gear people bring.  I brought my chest harness because it's different from other people's chest harnesses.  It took me a while to figure out which one worked best for me, but being here in Colorado I was lucky to borrow ones from Mad Rock and I tried Petzls and a couple others, but I was able to try out about 5 harnesses before I picked mine.  Everyone's disabilities are different and for those of us who need chest harnesses, it can be very dependent on what your disability is- does it dig into me in a weird way that maybe it wouldn't for someone else?  It's crucial to figure out.  Or for someone who has paralysis, making sure that gear doesn't dig in and trying out different gear is important.  It's definitely something that you can try out and talk about around a large group of adaptive climbers.  There were also a lot of people who aren't attached to any adaptive groups and were coming by themselves and learning about the different gear that's offered.  I know I said earlier that adaptive climbing doesn't require any additional gear, but understanding the different types of gear that is out there and realizing how many different brands there are to choose from is helpful.  A lot of people use a generic "maternity" chest harness and don't even know that Petzl and Elderid and Mad Rock actually sell specific chest harnesses.  Sometimes gyms don't even know that.  
Where would you like to see the future of adaptive climbing go?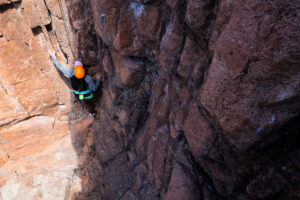 Almost every gym these days has group programming for LGBTQ or minority groups which is awesome but I would love to see every gym also have an adaptive climbing program.  As common as those other programs are, I want to see adaptive climbing also that common in every gym as well.  I think that representation is important because in any minority group in climbing, people are often told no.  But none so much as folks with disabilities and climbing is all about what you can do, not what you can't do.  
Is there anything that you wish that the non-adaptive community knew about adaptive climbing?
I would say that the one thing that I wish that the non-adaptive climbing world knew is to understand Paradox's approach of "high stoke, low inspiration".  If you see an adaptive climber on an intro route, that doesn't necessarily mean that they are climbing at their grade.  They may be warming up just like anyone else.  A friend of mine got me a "Not Your Inspiration" chalk bag and it's awesome.  That would be the biggest thing I would want people to understand.  I've been out at the crag looking for a route and people will be surprised that I am out there to climb, what else would I be doing at the crag?! 
Photo Decriptions:
Photo 1: Jess climbing in Staunton State Park.  She has her left hand on a hold and is smiling and giving a thumbs up at the camera with her right hand.  She is wearing a bright orange helmet with a purple baseball cap underneath.
Photo 2: Jess halfway up a climb at Shelf Road.  She is looking up at the rock.  The limestone cliff continues past her and can be seen through the whole image.  There are green trees and brush on top of the cliff.
Photo 3: Jess is standing with a group of 7 other Paradox climbers and volunteers (+1 dog) in front of an indoor rock wall.  This was taken from a previous Paraclimbing competition.  They are all either wearing Paradox Sports t-shirts, or have Paradox Sports patches on their shirts.
Photo 4: Jess ice climbing in the Ouray Ice Park.  She is reaching up with her left hand that is holding an ice axe that is in the ice.  She is dressed warm in snow pants, a bright blue winter coat, goggles, and helmet.  You can see more ice faces down the gorge and a snowy mountain is in view between the two sides of the gorge.
Photo 5: Jess and Esha sit together in front of a rock wall at Staunton State Park.  They are both smiling at the camera and Jess has her arm around Esha's shoulder.  They are both wearing climbing helmets.
Photo 6: An image taken from above of Jess mid-climb at Staunton State Park.  She has her left hand up high and is looking up at the rock.  She is wearing a bright orange helmet.