BECOME AN ADAPTIVE ADVOCATE
Join the Paradox Sports Monthly Giving Program
WHAT IS A PARADOX SPORTS ADAPTIVE ADVOCATE?
We are looking for Adaptive Advocates to make a monthly commitment in support of opportunities for climbers with disabilities. For the price of a day pass to the climbing gym, you can help sustain our mission to transform lives and communities through adaptive climbing opportunities that defy convention.
The Paradox Sports Adaptive Advocate community represents a passionate group people determined to help us fulfill our vision of accessible climbing opportunities for everyone. We have an initial goal of 75 Adaptive Advocates. People like you, proving we can change perceptions. Your commitment to Paradox Sports with an ongoing gift enables us to plan for the future, and provide local programs in the community, national education initiatives, and the best adaptive climbing trips on the planet. We ask that you consider a small monthly donation in order to expand the world of climbing and adventure.
Your monthly support as an Adaptive Advocate is an investment in our future.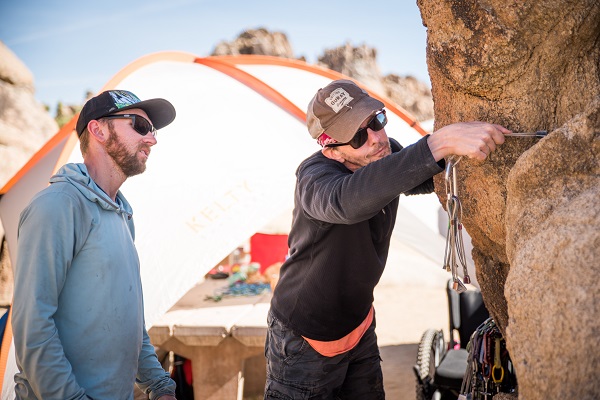 DO YOU REMEMBER YOUR FIRST CLIMB?
Maybe you were a kid climbing trees, a dirtbag college kid just discovering the freedom and the places climbing brings you, or maybe you just recently started climbing at your local gym.  Maybe, you're not a climber – but you still get that sense of awe when you see others defying gravity.  Climbing is empowering and humbling.  Climbing requires you to be present in both mind and body, and often the "disability" holding you back is in the mind.  The adrenaline of that first climb, trusting your belay, realizing you are stronger than you thought all lead to transformational experiences.
Access to climbing is a vehicle for change.  Be a part of the change – and give someone else that experience of their first climb.
GIVING LEVELS*
* Any amount is welcome! All recurring donors will receive a special gift, in addition to the exclusive items.
$15 / Month
Paradox Sports Hat
$25 / Month
Paradox Sports branded Camping Mug
$35 / Month
Paradox Sports Grey Hooded Sweatshirt
$75 / Month
Paradox Sports branded Osprey Stratos Backpack
WE NEED YOU NOW
Hundreds of people with disabilities and industry professionals find knowledge, support, and community through Paradox Sports.
As we pivot during this pandemic, our staff continue to stay focused on our mission to transform lives and communities through adaptive climbing opportunities that defy convention. We are making difficult decisions to ensure that Paradox Sports is here at the end of all of this, in order to continue serving our adaptive athletes.  Help us reach our goal of 75 Adaptive Advocates.
WHY MONTHLY GIVING MATTERS
It Fits Your Budget
Whatever your monthly gift, it accumulates to provide life-changing experiences.
It Plans For the Future
Sustained donations enable us to strategically expand and innovate.
It Gives You Special Perks
Be the first to know exclusive updates, to register for programs, and more – see below!
It Builds Community
Month after month, your contribution is fueling our programs and helping us expand our community.
ADAPTIVE ADVOCATE DETAILS
Each new recurring donor is eligible for the gift correlating with the giving level above, as well as the following:
Recognition on the Paradox Sports website

Priority Registration for Paradox Sports National Trips (24 hrs in advance of the public)

Paradox Sports Annual Report

First to receive updates and progress on our work!
By signing up as an Adaptive Advocate you are committing to a minimum of 6-months recurring gifts to Paradox Sports.
"The Paradox Adaptive Advocate program is a painless way I can help support a great organization and the climbing community that has given so much to me over the years. It feels great to know every month this community of Adaptive Advocates is providing opportunities for folks to experience climbing for the first time."
-Nate McKenzie