I should be here, and I think you should too.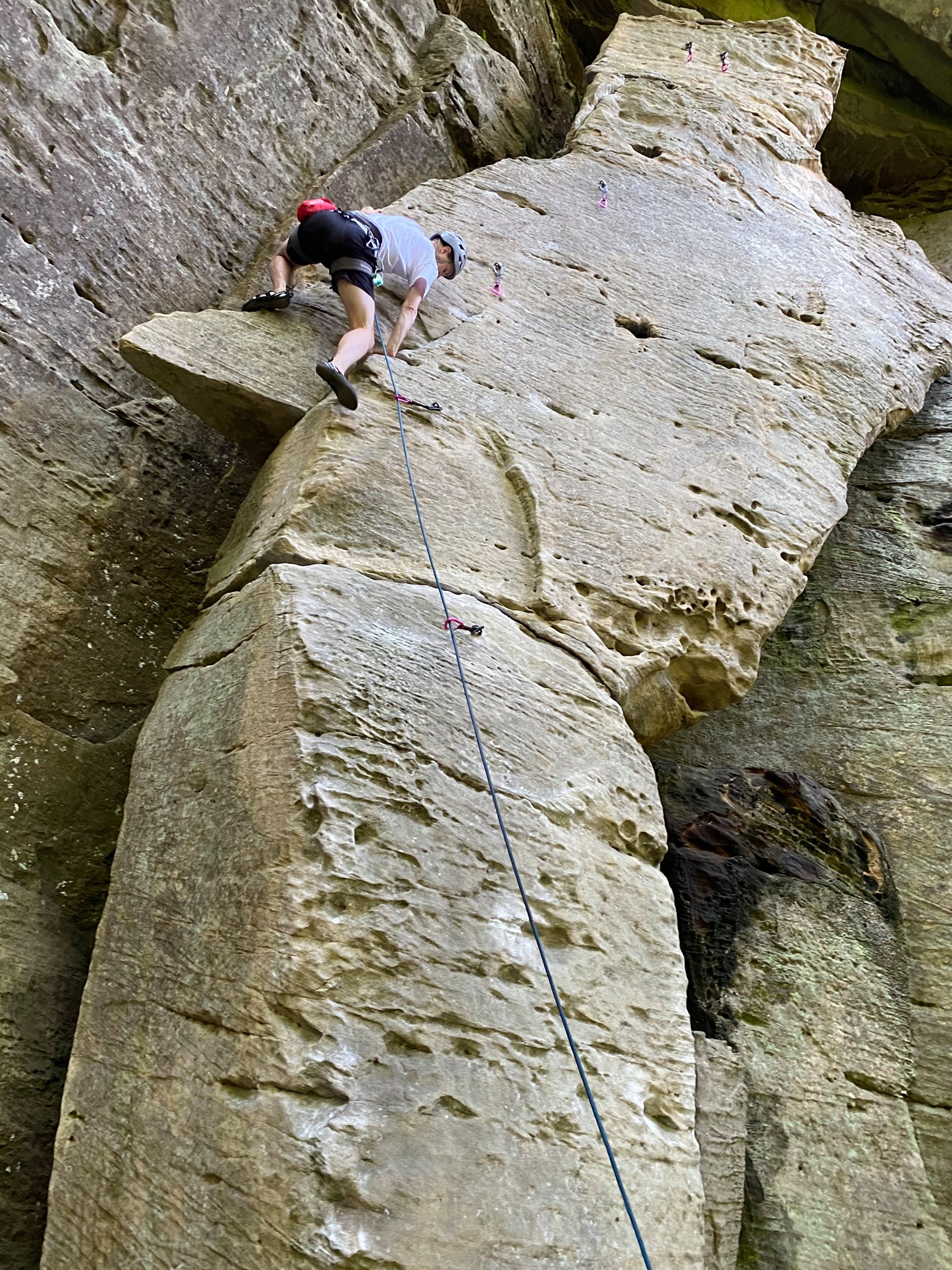 I shouldn't be here.
I look down from the sixth clip. It is my third time asking Trevor to take out the slack. I'm shaking. This is a 5.9- route at the Red River Gorge; something I can theoretically swim up on rock, let alone in a gym. It's our third day climbing and our second trip here together. And yet, I am afraid. Eventually, after a fourth take, I endure the top and am lowered with eyes fixated on the wall.
"Hey man," I say, "can I get a hug?"
2020 was a record-breaking year in many respects. Extreme heat, enormous wildfires, and a pandemic – all keeping me gainfully employed as a public health professional. I'd been supporting the State of California in their COVID-19 response for several months by this point, starting when I was still completing my Master of Public Health at the University of Michigan. I jumped at the professionally exciting if personally horrifying chance to support pandemic response.
To keep the nerves down and escape the simultaneous tedium and intensity of operations, I would drive every weekend out to Lake Tahoe for mountain time. Born and raised to a single mother in Florida, the idea of hiking and climbing in somewhere like California – let alone Tahoe – was always the kind of thing "other people" did. Having the opportunity to be one of those people and experience the grandeur of the Sierra Nevada was quite seriously a dream come true. The long hours of the early response operations inspired daydreams about such provocative names as Pyramid Peak, Castle Peak, Desolation Wilderness, Crystal Range, and Black Butte. Frankly, they still do.
It was a hot, hot day in another torrid northern California summer. July 12, 2020 – the day my girlfriend (now fiancée) and I were to sign for our apartment. I told her I'd be back by 4PM at the latest to make the 5PM deadline. The goal was Mt. Price via a northbound traverse of the southern Crystal Range. Starting from the Lyons Creek Trailhead, the route takes you from Pyramid Peak over a crenellated ridge toward the diving board summit of minor peak Mt. Agassiz and major peak Mt. Price. All the while, you climb on northern Sierra granite boulders with the remnants of this area's comparatively recent volcanic history.
I make it up and over Pyramid Peak without much difficulty, navigating the mountain's north side as I sight the ridge. When approached northbound, the beginning of the Crystal Range Traverse is by far the crux. Upon completing the moderate scrambling of Pyramid Peak, you're faced with a tapering ridge with large drops on either side – one toward Lake Sylvia, another toward the famous Lake Aloha and inner Desolation Wilderness. This tapering ends at a single large spire requiring unprotected climbing for approximately 30 feet – maybe less, depending on your ability (and comfort) with sidling along the rock.
In mountaineering, it is paramount to control your mind as much as your body. A little anxiety can be preferable to keep yourself from making overly rash or foolhardy decisions. Too much can impair your decision-making and cause you to freeze on the route. It was at this moment, when looking at the spire, that I began to be afraid. I noticed that the left side of the ridge was shallower with stable granite slabs leading to Mt. Agassiz – a great option rather than navigate the spire. All I needed to do was scramble down the west side of the ridge and continue on my way.
With the sun beating down, I examined the routes and tried to find the best way down. I was a somewhat decent climber at the time, albeit my mountaineering was still in its infancy. I'd completed the 48 4000-Footers of New Hampshire and had summited several peaks in the Lake Tahoe area, and I was quickly becoming enamored with the feeling of rock under my fingertips. In retrospect, the best decision would have been to completely call off the traverse, head back up Pyramid Peak, and return to my car; the mountains would always be there (and if they weren't, I would have bigger problems). But, in my inertia, I wanted to keep going. I picked my route, set my boots down on the first chips, and began to downclimb.
Then I fell.
I shouldn't be here.
Sunlight pours onto a beautiful winter morning with crisp bluebird skies – the kind of cloudless where the sky seems so blue, it seems to darken into a noon twilight the further it stretches from the horizon. The summit goal does not matter in this vignette. What does matter is that I have been awake the entire night.
I knew the starting trailhead and the optimal route, and yet throughout the previous evening, I poured over it – obsessed, really. Identifying every single contingency. Looking up every trip report. Finding every itinerary. Anticipating every possible accident or incident that could occur. Increasing the tension in my chest rather than comforting myself with the knowledge of preparedness.
I'd been having this dream most nights: I'm on a trail headed toward a nondescript Sierra peak. There's something wrong with the trail. Maybe it's a boulder blocking the path, steep snow, or a cliffside covered in ice. I can't stop myself from walking toward it; for some reason, I have to keep going. I get closer and closer to the hazard – and then I wake up.
I do not remember the actual fall. I recall my feet slipping, and the next instant I am pushing myself up on talus and feeling liquid pouring off my head. I thought my water bottle had broken; it was not. My left shoulder hurt, and there was soreness above the humerus.
Somehow, I made it back down the mountain toward the Lyons Creek Trail – an 1800-foot talus scramble in less than two miles. I was fortunate to meet two hikers along the way to whom I asked in my addled state, "How bad does it look?" Their response: "It looks pretty bad!" When walking back with them, I briefly slipped and caught myself with my left arm. Pain shot up toward my neck, and upon rubbing my shoulder, I felt a space in my collarbone that should not have been there.
They hiked with me for the four miles it took to return to the trailhead, after which one drove my car with me in it to the emergency room in Placerville, forty miles away. I was eventually rushed to the trauma center at UC Davis Medical Center, where I stayed for two nights in the ICU. I had a collarbone broken in three pieces, a subdural hematoma, a right parietal skull fracture, a broken nose, a broken thumb, and severe facial lacerations. My adrenaline was pumping so high, I kept cracking jokes while a physician stitched my forehead: "That show ER made this seem so much sexier!" At least one nurse was not amused.
Through so many nights, I wondered what happened. Was it the heat? Was it the dusty conditions on the ridge? Was I not worthy of this sport? Was I irresponsible? Was it the stress of the job? Was I bad at everything?
Though I was climbing and mountaineering again by the following winter, I was frequently paralyzed with fear – especially the night before a summit attempt. This continued even after I returned home to Maryland in the early summer of 2021. Bouldering more than five feet above ground was overwhelming, and I would exclusively lead climb gym routes that were several grades below my redpoint simply because even the comparatively controlled falls in a gym setting were more than I could handle. I worked with a counselor and a bouldering coach for two years; I would wake up for my 6:30AM sessions asking myself "do I even enjoy this anymore?"
I have a metal bar that holds together my left collarbone. My party trick is telling people to touch the bumps where the metal pushes against the skin; it mortifies my fiancée every single time, so of course I make sure to do it when she's in earshot. The pink scars on my forehead have mostly faded, but they stand out when I tan. I have lost a little hearing in my right ear, as for a week after the fall, I was partially deaf since swelling from the skull fracture pushed against the auditory nerve. Thankfully (mercifully), I have experienced no personality changes that I or my loved ones have noticed following the TBI; the only lingering differences from my prelapsarian self are that I occasionally miss or repeat words when talking, and I have terrible problems with homophones.
And yet, I'm here. Like a sailor returning to the ocean after a close call on the reefs, I like to think that my accident has inspired in me a new awareness of all the possibilities in mountaineering. "Respect for the mountains" might be a clichéd term, but it's absolutely right. And I give myself grace for those two years of waking up scared, dreaming of an interminable trail, shaking on bomber bolts, obsessing over aftermaths, and wondering if I should be here. I was doing my best.
On May 27th, 2023, I traveled back to the northern Sierra to begin a five-month mountaineering trip upon completion of a COVID-19 contract and simply to be in my favorite mountain range. For the Sierra Nevada is, still, my favorite. Though the itinerary occasionally changes based on snow conditions following the massive 2023 winter (another record-breaking year), I am following the range south while working on a variety of mountaineering lists including the Sierra Peak Section, Vagmarken Sierra Crest, and Tahoe Oguls. In fact, two months were spent in the Lake Tahoe region to complete that third list – which included revisiting Mt. Price and the Crystal Range.
Completely by coincidence, I returned to Mt. Price exactly three years after my fall. Though I had done plenty of mountains and climbs that were higher, harder, and more technically demanding than this one, I was still nervous – understandably so. This time, I opted for a more conscientious route that took me through Mt. Price's main gully and west ridge. Talus, exposure, steep granite slabs – and one of the most personally fulfilling ascents of my life. Standing atop Mt. Price and looking over Desolation Wilderness was actualizing in the way I believe Maslow intended. And it continues now, with over 75 ascents in two months throughout Sonora Pass, Yosemite Wilderness, Hoover Wilderness, and the desert peaks of western Nevada. 
I should be here, and I think you should too.
Dylan received an Adaptive Adventure Fund from Paradox Sports to help fund his trip.  If you'd like to learn more, apply for a scholarship, or donate directly to the Adaptive Adventure Fund to help others create impactful experiences in the outdoors, you can find more information here.
Photo Descriptions:
Photo 1: Dylan on his first rappel in Virginia in 2021.  He is smiling at the camera and wearing a grey helmet and long sleeve shirt and his harness gear loop is full of quickdraws and slings.  He is rappelling on a green rope and there is a valley in the background that is covered in lush, green trees.
Photo 2: Dylan lead climbing at the Red River Gorge.  The picture is taken from below.  He is 2 bolts up and just below the 3rd bolt, mid move.  The climb appears to be juggy at the bottom with less holds up higher.
Photo 3: A black and white photo of the Southern Crystal Range that Dylan took over Memorial Day in 2020.  There is a ridge in the foreground with several other peaks in the background.  There is a lot of snow in the range.
Photo 4: A selfie that Dylan took after his fall.
Photo 5: Dylan's tent on top of Pyramid Peak.  His tent is orange and grey and is set up in a flat, snowy area.  There are some large, exposed rocks just to the left of his tent and some additional snowy peaks in the background.  The sky is bright blue.
Photo 6: A selfie that Dylan took upon his return to the Northern Sierra.  The picture is in black and white and he is wearing a hat, goggles, and an Osprey backpack as he smiles at the camera.  There are snowy peaks in the background.
The last 4 photos are side by side.  Photo Descriptions are from left to right:
Photo 7: Photo from the Mt. Tallac (SPS mountain) summit block, taken during a sunset climb from the south (6/30/2023).  The ridgeline of the peak is in the foreground of the photo with other mountains in the background.  The sun is setting and the sky is turning from blue to orange.
Photo 8: A selfie of Dylan from the summit of Oreana Peak (Great Basin list mountain) in the Nevada Great Basin, looking toward the 10K+ foot summits of the Carson Range east of Lake Tahoe.  Dylan is wearing a hat, sunglasses and a puffy jacket.
Photo 9: North aspect of Dicks Peak (SPS list mountain) within Desolation Wilderness (7/9/2023).  There is a lake closer in the shot in a valley full of trees.
Photo 10: Summit block of Devils Peak on Dylan's way to Snow Mountain (6/2/2023).  There is a lot of snow covering the ground and hillsides and some standing water in the foreground.  A peak is in view and below it are semi-exposed rock faces.